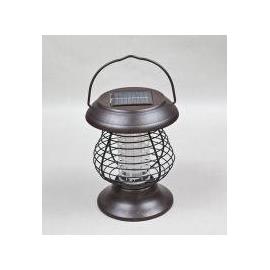 Solar powered pest killer lamp
2016-06-29
Model: MR-lamp-Solar
Price: $16.95
Freight: $10 for any quantity.
Standard package: Solar powered pest killer lamp (1)
| | | | | |
| --- | --- | --- | --- | --- |
| Model | Picture | Standard package | Price | Add to Cart |
| MR-lamp-Solar | | Solar powered pest killer lamp (1) | $16.95 | |
Product introduction
1.Solar powered. "AA" rechargeable battery included.
2.Automatically turns on UV with high voltage after sundown to attract pests.
3.Light is on about 8 hours.
4.Hang the lamp where solar panel will be illuminated by the, turn switch to UV position. Easy to use.
When switch at UV position, the UV lamp and high voltage will be produced which will zap bugs. Suggest to be cautious even lamp in "OFF" mode do not touch the electrodes, do not stare at the lamp. If need lighting only, switch to "Light" position.
Specification:
Solar panel: 4V 50mA
Light source: 1 white LED, 1 UV LED

Power Supply: 2 * AA600MAh 1.2V rechargeable batteries
Lighting time: 8 hours
Product size: 15*15*26.5CM

Precautions:
(1) Avoid touching the top of the solar powered light.
(2) In case the light is not working properly, covering the upper surface of the solar panel completely in order to activate the light sensor.
(3) If surrounding light is bright, the LED light may appear very dim or may not turn on at all.
(4) The battery has been fully charged by the manufacture, its charged level may drop by the time you receive it. Charge it under good sun for a day in order to reach optimum performance.
(5) Do not use water to clean. Rotate wire grid until release it from the ledges. Carefully put wire grid aside. Slide the power switch to "OFF" position. Rotate the plastic grid counterclockwise until release it from ledges. Place the plastic grid aside. Clean metal net using a dry soft cloth, an old toothbrush, or canned air. After cleaning, put the plastic grid by aligning the tabs on the plastic grid with the slots and twist clockwise until secure. Slide the power switch to desired position, Put wire grid back.
(6) AA high capacity rechargeable storage battery lasts up to 1300 cycles. The lifetime of the LED lamp is up to 100,000 hours.
Replacing the battery:
If the light stops working after being used for a long time, the battery may have exceeded its lifespan. It is advisable to change it for a new one. (Battery Specification: 1.2V AA battery)